5 November 2016
Miami
Ask yourself: what does it mean to die and die and die yet somehow still stay alive?
Few people in America are as invisible as the quietly shattered.
Recently I saw Moonlight, directed by Barry Jenkins, and adapted from Tarell Alvin McCray's original play In Moonlight, Black Boys Look Blue.
It's one of the best movies I've seen.
Moonlight trusts its audience. "Trust your reader", the publisher of my first book Ghetto Plainsman once told me.
You create, and they experience with you.
That's one of the most important things any real artist can do.
In Hollywood, it's so rare for a movie to "trust the audience" and practice restraint – including telling its story without gimmicks, contrivances, manipulations and beating its points over our heads with a baseball bat – that a movie like Moonlight leaves us flayed open … body, senses and emotions raw, unable to stop thinking about it for days. That is the mark of a great film.
Moonlight unfolds in three acts, following the life of young Chiron growing up in the rough Liberty City neighborhood of northeast Miami.
Played by three different actors, first we see Chiron as "Little" (Alex Hibbert), then as teenage "Chiron" (Ashton Sanders) and finally as "Black" (Trevante Rhodes), a grown mid-20s man.
As a boy under attack from all sides, devastated, and questioning his own identity, he can hardly speak.
No safe place. It's like the dangers from the world produce so much roaring noise around him he is canceled out into utter silence.
It's in these spaces between words where all three actors playing the three stages of Chiron's life blow us away.
Brief moments of refuge become the outsized impacts on his life, within this perpetual storm.
Juan (Mahershala Ali) is a 40-something drug dealer who becomes a father figure, taking little Chiron to the beach, while Juan's girlfriend Theresa (Janelle Monae) occasionally mothers him in ways his screaming, crack-addicted Ma (Naomie Harris) can never.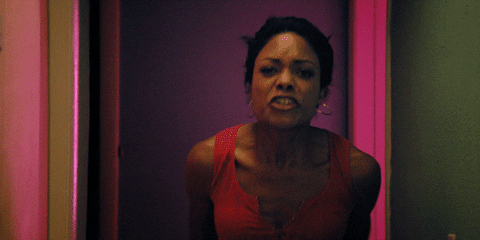 Equally out of place at school, skinny, sullen, in perpetual grave danger from other dudes who want to beat him up, Little/Chiron finds a few private moments of comfort in a friend, Kevin (Jaden Piner/Jharrel Jerome). (Andre Holland plays adult Kevin later.)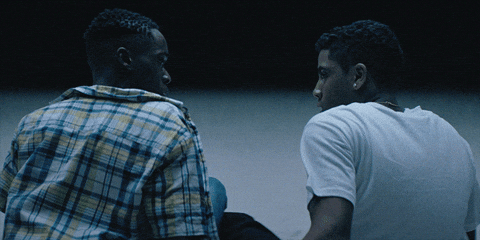 But even that falls into threat and loaded danger.
None of this collapses into stereotypes or cliches. The intensity of the first two acts is so tight and seamless that when Act 3 drops we've forgotten we're even in a movie theater.
When we see Chiron in Act 3 as a grown man, he's metamorphosed into a super-fit, hard man running his own drug game up in ATL.
Over at CypherAvenue.com, maybe the country's most popular cultural site for masculine same gender loving men of color, some site visitors offensively commented that it wasn't possible for a dude who was softer and weaker (devastated) as a kid to change that much into a new man.
They clearly have no idea. I know a person who at age 7 was so shattered he wanted to cut his wrist off with a steak knife or jump from a roof and then hated himself even more because he was too punk to go through with it. When that person finally "died" as a teenager, it was total and irrevocable, and he built an entirely new life that's tough, confident, effective and extremely fit.
Life hardens you.
Which does not mean rare residual breaths, or lack thereof, might surface beneath that hard exterior.
And that's what this shimmering movie is.
A gasp… a breath. A window into bottomless pain that touches us so deeply … decades of unrelenting pressure … that any amount of comfort, any proximity to a moment of love or safety, vibrate and hum through our soul.
~ ~ ~ ~ ~
In many ways Miami is its own tropical country hiding out from the rest of America.
Cinematically speaking, Moonlight's visuals are so live and interwoven with the story that landscape becomes a living, breathing character itself. That's what a great film or book should do.
Moonlight gives us a Miami that most people have no idea about, a Miami of inland hoods with accidental banana trees and broken slabbed concrete, rich multicultural blackness, and humid saturated blue and yellow sky with green fields where black boys play soccer instead of American football.
Shared American experiences have their own twist, like when Juan, speaking in his regular American East Coast blaccent, tells young Little about his grandma who was from Cuba, and suddenly switches his voice to perfectly nail her black Cuban grandma accent.
Or when Little, as a boy, steps into the ocean and lifts his hands under the water's surface and we realize he's never seen the ocean before.
(Being an activist, I felt a flare of anger in that powerful scene. All of this will be underwater in the coming decades as sea levels rise from climate change. How fucking dare us ruin the planet when even now, in these last few decades, so many kids have never even been to the beach, or other places in the natural world.)
Don't pigeonhole this beautiful, transformative film.  Moonlight is a human story where ultimately, like Chiron, we can hardly talk or breathe.
It might just change your life in some small, private, quiet way.
Me, after coming home from the theater, I couldn't sleep.
So I listened to the nearly 2-hour Cypher Avenue podcast about it.
Still couldn't sleep.
I tried taking a whole dropper of homeopathic Rescue Remedy under my tongue.
I tried listening to the Liquid Mind station on Pandora.
I played Brandy, whose ethereal voice can usually make anything feel better.
Then finally at 4 a.m. I went out for a 4-mile beach run where the hard winds that haven't left since Hurricanes Matthew and Nicole blew sideways misting rain off the ocean into my face.
"Barry (Jenkins, the director of Moonlight), created something that feels even more real than what I'd written down. It's so beautiful, and yet it's full of all the questions and the doubt and the guilt and the longing and the loneliness that was the impetus for the original piece." – Tarell Alvin McCraney, writer of the original play, In Moonlight Black Boys Look Blue.
Read an interview with Tarell here.
For more info on Fear & Loving: Where Sea Level Meets the Deep, or Jarid Manos' first book Ghetto Plainsman, which is currently being made into a Hollywood movie, or his upcoming novel Her Blue Watered Streets, please visit JaridManos.com.
Like Jarid Manos' professional page on Facebook here.